Kitbash Download
wwgcw1is1
Fantasy
Fan Kitbashes
1"
April 11, 2006
2MB
SirRob01
Description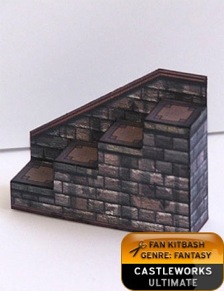 This is a 1" wide staircase for the Stone House of CastleWorks Ultimate. It fits the scale of a 1" Grid more naturally, and frees up valuable space for miniature placement.
It also includes a modded stairway gap in the 2nd story floor so that it's only 1" wide
Stairs with right-hand rail
Stairs with left-hand rail
Modified 2nd story floor template

Save 25%!
Product Line
Fan kitbashes are user generated content derived directly from our model sets, games, textures and terrain systems. Kitbashes are 100% free to owners of the original model sets from which they are derived but remain open for purchase to those who don't own or require the original offering.

How to Submit a Kitbash

To submit a kitbash please see our submission guidelines here
Reviews (0)
This product has not been reviewed yet.