Kitbash Download
kbmar1806
Fantasy
Fan Kitbashes
NA
March 18, 2006
3MB
SirRob01
Description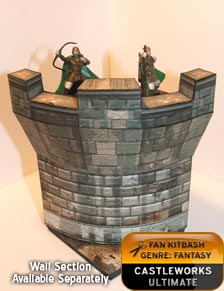 This kitbash has all you need to add a variety of complex crenelations to your castle walls.
Included are outer and inner crenelations for curved walls, making for some impressive towers. This bash also has 3 inch and 1.5 inch long crenelations, for the shorter wall sections. This adds far more possibilities for your castle's appearance!
Save 25%!
Product Line
Fan kitbashes are user generated content derived directly from our model sets, games, textures and terrain systems. Kitbashes are 100% free to owners of the original model sets from which they are derived but remain open for purchase to those who don't own or require the original offering.

How to Submit a Kitbash

To submit a kitbash please see our submission guidelines here
Reviews (0)
This product has not been reviewed yet.