Kitbash Download
kbhfocbw
Fantasy
Fan Kitbashes
1", 1.5", No Grid
November 27, 2014
131 MB
Alexandre Moreau
Description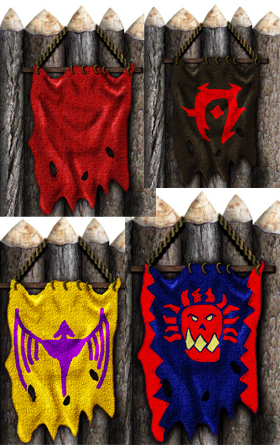 A collection of various banners for your orc camp! Note that this bash is made of multilayered PDF, so you can choose your banners. Content list:
8 differents banners colors (red, tan, blue, dark blue, green, yellow, white and dark grey).
6 different symbols (Demon head, Orcish head, Esoteric symbol, Dragon silhouette, Orcish sunny head, "horde" symbol).
And all this in all wall format (3in, 6in, arc, short angle, long angle)
Save 25%!
Product Line
Fan kitbashes are user generated content derived directly from our model sets, games, textures and terrain systems. Kitbashes are 100% free to owners of the original model sets from which they are derived but remain open for purchase to those who don't own or require the original offering.

How to Submit a Kitbash

To submit a kitbash please see our submission guidelines here
Reviews (0)
This product has not been reviewed yet.