PDF Download
wwgsww
Western / Victorian
TerrainLinX
1", 1.5" & Zero Grid / 25-32mm
July 25, 2011
90.6mb
Matthew Lyon, Bob Cooper
Description
"Let us begin our tour in the west wing. This is the older portion of the house, and yet it is still in the best condition. Solid stone exteriors protect an interior with detailed woodwork, a variety of wall treatments, and several kinds of tile floor..."
Our two original, best selling Shellendrak terrain sets (Shellendrak Manor and Return to Shellendrak Manor) are being relaunched as fully TerrainlinX compatible offerings, complete with full robocutter compatibility. Meaning complete, on-the-fly design freedom in all dimensions! West Wing contains three different styles of wall, four styles of floor, and both flat and angled roof options, along with a whole host of different ways to put it all together.
Within, you will find...
Stone exterior walls opposite three interior styles (grey, green and stucco).
Full support for transparency windows, both plain and in stained glass tones.
Interior angled walls (both 4.24" and 8.48").
Bay windows designed to fit into exterior 3" wide spaces, extending outwards from the building (also with full transparency support).
A full set of truss and roof build options to cap off your buliding in nearly any shape and configuration, complete with transparency spike rows.
Exterior roof flat areas for balconies, flat roof sections, and more.
Spired, angled, or plain roof caps to the bay windows.
All standard tile configurations (3x3, 3x6, 6x6) and formats (1", 1.5", and gridless) incorporating three different styles of tile, and a wood floor both plain...and bloodied.
A regular staircase, and a Grand Staircase incorporating a new design style, half-height posts, platforms, and the ability to design a variety of formations on the fly.
The Terrain Box: Both storage and terrain, it's designed as a one or two story exterior square large enough to hold 6x6 tiles, and designed to accommodate any typical roof configuration.
Lock and Key props, for providing a visual to match any keys and doors in your building design.
And of course, full instructions and GSDs (including pre-cuts for transparency windows and openable doors).
Get the props pack!: Shellendrak Props Pack sold seperately.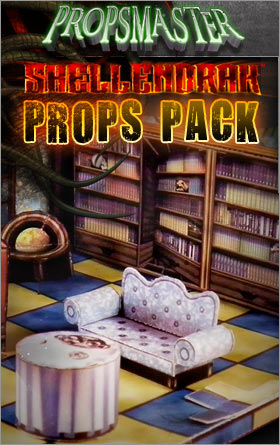 Save 25%!
Product Line
Introduced to our catalog in late 2009, TerrainlinX is our PDF "Print, Build, Play" 100% modular terrain system. Includes full automated craftcutter (Robocutter) support making it the ultimate home fabrication terrain alternative. Build as much as you want, as BIG as you want, whenever you want!

FREE instructions, video of the system in action and dimensions: click here!
Reviews (0)
This product has not been reviewed yet.