Kitbash Download
kbmmmpl
Modern
Fan Kitbashes
1", 1.5", No Grid
July 29, 2015
2.5 MB
Neale Davidson
Description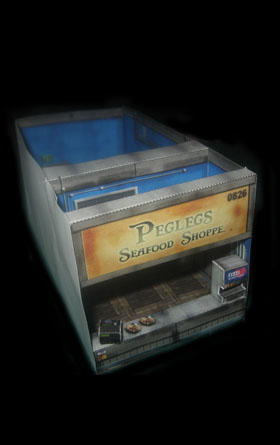 Peglegs is a 'food court' addition for Mayhem Mega Mall, based on a certain famous fried chicken and fish franchise. The design is a heavily modified and retextured variant of Vanka's Donair Yurt shop from the Mayhem Mega Mall set. Content list:
Walls and Floor tile to create a new stall
Props
Save 25%!
Product Line
Fan kitbashes are user generated content derived directly from our model sets, games, textures and terrain systems. Kitbashes are 100% free to owners of the original model sets from which they are derived but remain open for purchase to those who don't own or require the original offering.

How to Submit a Kitbash

To submit a kitbash please see our submission guidelines here
Reviews (0)
This product has not been reviewed yet.