Kitbash Download
kblhfc
Fantasy
Fan Kitbashes
1", 1.5", No Grid
December 21, 2013
9.47Mb
Curt Voiles
Description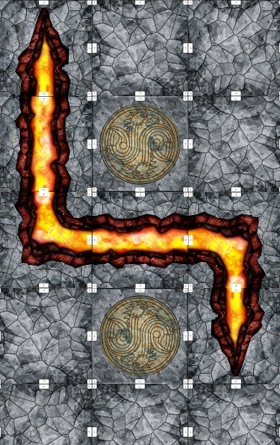 This kitbash adds an extra element of danger to the broken floor tiles in the Lost Halls of the Dwarven King set. You no longer have to fear falling to your death. Now you have to fear falling to your FIERY DEATH! All tiles are provided in 1", 1.5" and gridless formats. Keeping with the tradition of the original Lost Halls set, there are only anchored tiles - no anchorless versions are provided.
6" chasm tiles exposing lava
Save 25%!
Product Line
Fan kitbashes are user generated content derived directly from our model sets, games, textures and terrain systems. Kitbashes are 100% free to owners of the original model sets from which they are derived but remain open for purchase to those who don't own or require the original offering.

How to Submit a Kitbash

To submit a kitbash please see our submission guidelines here
Reviews (0)
This product has not been reviewed yet.