Kitbash Download
wwgumtf01
Modern
Fan Kitbashes
1", 1.5", zero-grid
June 26, 2006
2MB
Bob Cooper
Description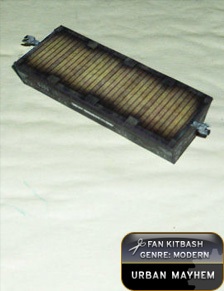 A flatbed surface that could be pasted onto the top of a Mayhem Rail undercarriage to create a flatbed rail car, something that could sit out on a long stretch of lonely track. Cut 'em out and paste 'em onto the top of the Mayhem Rail undercarriage. You can cut off the rail couplings if you don't like 'em, or you can align them carefully to connect one train car to the next to the next.
Train Flat - 1" Grid
Train Flat - 1.5" Grid
Train Flat - Gridless
Note: The undercarriage is from Mayhem Rail...this kitbash includes only the top surfaces.

Save 25%!
Product Line
Fan kitbashes are user generated content derived directly from our model sets, games, textures and terrain systems. Kitbashes are 100% free to owners of the original model sets from which they are derived but remain open for purchase to those who don't own or require the original offering.

How to Submit a Kitbash

To submit a kitbash please see our submission guidelines here
Reviews (0)
This product has not been reviewed yet.