Kitbash Download
kbfeb0309
Sci Fi
Fan Kitbashes
NA
March 9, 2009
1MB
Zipdaddy
Description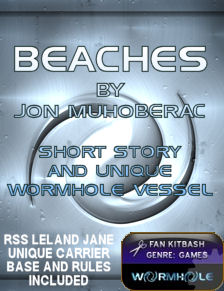 Jon Muhoberac (Zipdaddy) brings us a short story about Separatist Commodore Schultz's last mission. Included is a modified base and set of rules for the unique Carrier RSS Leland Jane and the two Command Fighter squadrons on board.
Beaches is set in the Wormhole game setting, and the Wormhole: The Sathricans faction has the actual vessels to match the modified bases provided in this kitbash (created by Bob Cooper)
17 page story
Base and rules for the modified carrier the Leland Jane
Bases and rules for the modified Command Fighter squadron
Save 25%!
Product Line
Fan kitbashes are user generated content derived directly from our model sets, games, textures and terrain systems. Kitbashes are 100% free to owners of the original model sets from which they are derived but remain open for purchase to those who don't own or require the original offering.

How to Submit a Kitbash

To submit a kitbash please see our submission guidelines here
Reviews (0)
This product has not been reviewed yet.